​
You're receiving this because you subscribed here OR here or maybe here.
This email may contain affiliate links. I receive a small commission for recommending products I use & love at no extra cost to you.
​[Read the browser version right here]​
---
[#Sponsored]​
Accelerate your growth with email advertising
Run results-driven newsletter ads with Paved.
Using Paved Ad Network, you'll be able to target specific audiences on multiple newsletters and reach millions with a single email ad.
»»» And for a limited time, Paved is offering a $150 ad credit to new advertisers! «««
---
This is GC⚡ #81 — your secret weapon for newsletter growth ⚔️
A special welcome to the 24 newest members of the Growth Currency⚡ newsletter community!
Thank you for giving me space in your inbox. 🙏
Did someone forward you this newsletter? Subscribe here »​
​
---
[GC News & Announcements]
What you need to know
🐝 beehiiv enhances its newsletter SEO features, and more.​
The newest and quickest-rising newsletter platform is making some SEO improvements to their platform: "we've tripled down on ensuring your website and content are SEO optimized, so it can be discovered by the world organically."
​
🐦 What's your Twitter SparkScore of influence?​
I found this interesting tool via Jeremy Enns' Creative Wayfinding newsletter and had to give it a try. SparkScore is a SparkToro product and it gives you instant audience insights on social platforms like Twitter.
​
​
​
​
---
[GC Editorial #Rerun]​
How I Built A Free Email Course —
and Gained 210+ Subscribers in under 30 days.
I ran a newsletter growth experiment back in May. Here's what happened.
Quick note here: I'm on holidays with my family this week so this week's editorial is from one of the most popular articles on growthcurrency.net. Please enjoy this #SummerRerun edition of the GC Editorial
I ran an experiment in May.
Louis and the team at SparkLoop were kind enough to sponsor this Growth Currency experiment.
The goal was to launch and promote a lead magnet to drive subscriber growth.
Why?
I wanted to create something that would resonate with my newsletter readers — present and future.
And getting them used to seeing "Dylan @ Growth Currency⚡" in their inboxes wasn't going to hurt, either.
Mostly — I wanted to create a lead magnet that would align seamlessly with my newsletter content.
After all, the whole point of creating a lead magnet is to acquire a new subscriber. If your lead magnet isn't relevant to your content, you're doing everyone a disservice.
So here's how I did it.
---
[#Ad]​
​Learn SEO from the best
Have you been frustrated with your Google traffic lately?
Are you tired of tools that make you search through millions of keywords and require a math degree to figure out which one to choose?
There's an SEO tool called RankIQ that can help.
RankIQ gives you a list of the lowest competition high-traffic keywords in your niche, and they are all clear winners.
​
When you choose one of their hand-picked keywords, their AI takes over and gives you a simple report telling you what Google wants you to cover in your blog post.
Whether you have a new site or have been around for a while, RankIQ will take your Google traffic to a whole new level. They're ranked #1 on G2 for ease of use, and their founder's blog gets 5 million monthly visitors from over 100,000 first-page Google rankings.
Go to RankIQ.com right now to lock yourself in at 50% off their monthly rate.
---
[GC Curated Resources: Start + Grow + Improve + Monetize your newsletter]​
Your Growth Currency ⚡ This Week
"Knowledge is the currency of growth."
​
START
⚡ How to get your first 100 email subscribers by Ghost.org
Love this breakdown because it's super sequential — this image helps you visualize your first 100 newsletter readers.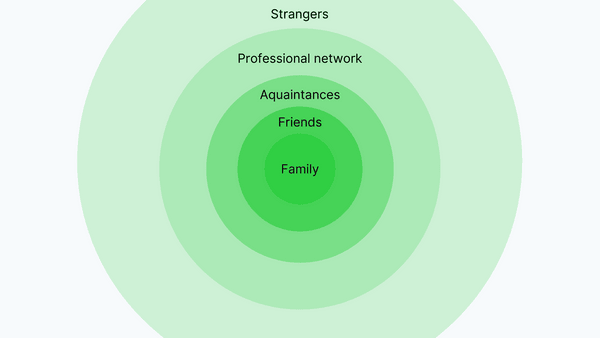 ​
​
GROW
⚡ How to Create an Online Quiz in Under 10 Minutes by Interact
Don't sleep on quizzes. They're powerful lead magnets. And Interact can help you put one together. See how quick & easy it is here.
​
​
IMPROVE
⚡ How to Increase Email Open Rates with H2H Subject Lines by Lily Ugbaja
"H2H" means Human-to-Human. Lily explains how to do the following to get higher open rates:
Appeal to self-interest
Stimulate curiosity
Personalize with audience data
Quantify your promises
Build urgency
Keep it short & clear
(🔗 via Refind)
​
​
MONETIZE
⚡ Justin Welsh's Secrets To Make $200,000 , Add 100k Twitter Followers, & Get 30k Emails In 5 Months by Ship 30 For 30
This is loaded with takeaways—but there's ONE massive nugget you can apply TODAY. The 16:41 mark where Justin says this:
"I try to carve out two 30-minute blocks per week where I'm just ideating."
Let that sit with you, then watch how Justin does it.
---
Thanks for making it to the end—I try and save some gold for this space.
There are two things I'd love to improve in my newsletter:
1) Meeting my new subscribers where they're at in their own newsletter journey
2) Making this newsletter a better visual experience
For #2, I'm looking into Palladio. You can create custom newsletter designs and "inject" them into your newsletter. I'm not an affiliate, I just think it's a great product—and it's on sale during launch week until August 21st.
​
How would you rate this edition?​
⚡⚡⚡⚡⚡ Electrifying!​
⚡⚡⚡ A decent jolt.​
⚡ Just static...
Hit reply and let me know why — I answer every one :) Or DM me on Twitter!
​
And in case you missed it, here are last week's TWO most popular links:
#1: How I Curate my Newsletter by Rishikesh Shari by
#2: Newsletters ≠ Email Marketing by Growth Currency⚡
​
---
​
Other Growth Currency⚡ Resources:
​
→ The 1KS Roadmap: A Free Course To Your First 1,000 Subscribers​
→ The Ultimate Creator Database of Awesomeness​
→ How To Start, Grow, and Optimize a Substack Newsletter​
→ Advertise in this newsletter​
→ Book a Newsletter Consult With Me: 30 Mins | 60 Mins​
Peace and platonic love,
Dylan