​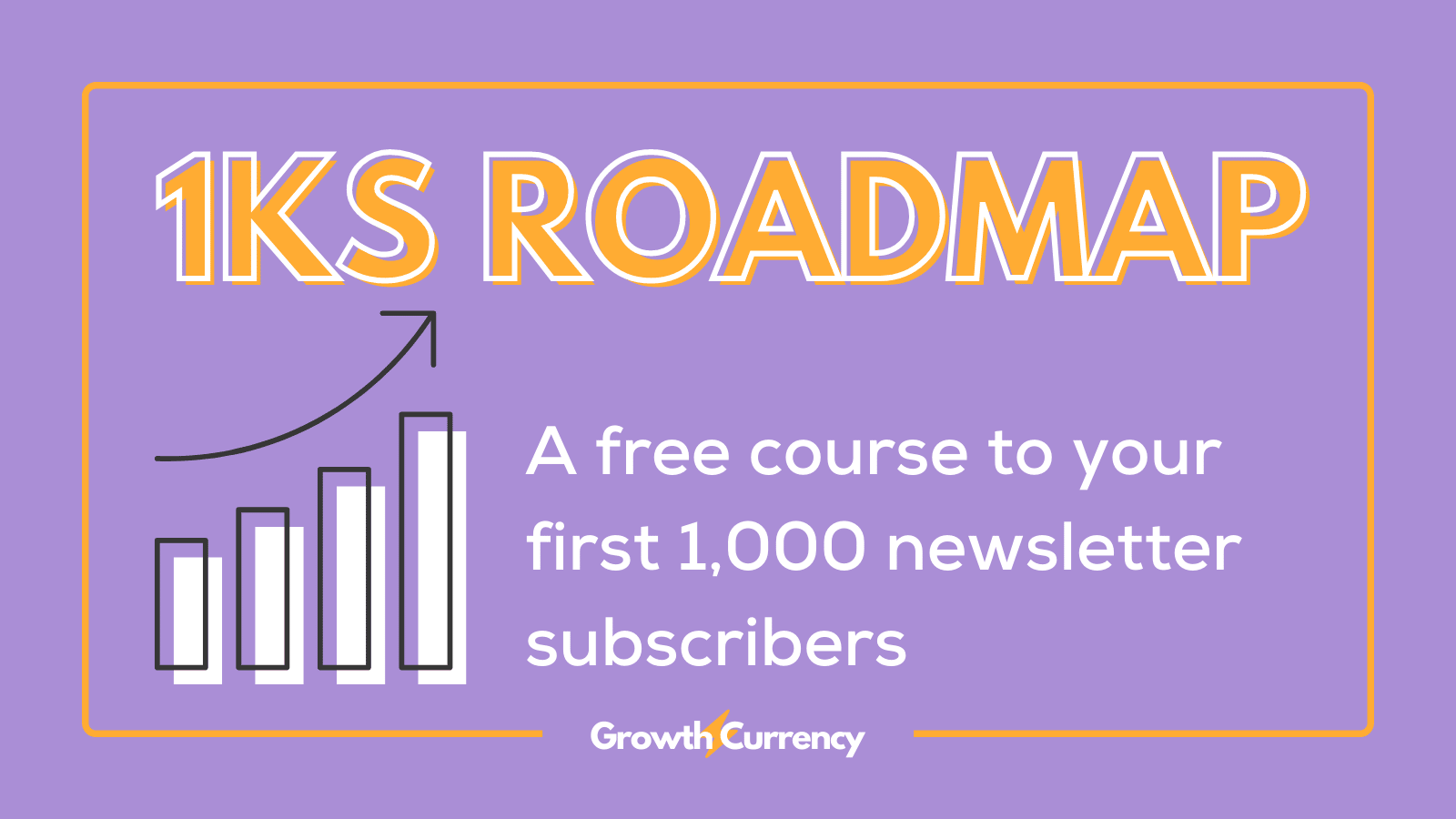 ​
This email found its way into your inbox because you are awesome and subscribed here OR here or maybe here. This email may contain affiliate links where I receive a small commission for recommending products I use & love at no extra cost to you.
​[Read the browser version right here]​
---
Don't let this month slip by without booking a newsletter sponsorship.
Check out top newsletters with available inventory in May at the Paved Marketplace & run results-driven sponsorships in a few clicks.
​Start bookings sponsorships on Paved Marketplace TODAY »​
​
---
This is GC⚡ #66 — your weekly dose of that nervous finger hovering over 'Send'
A special welcome to the 24 newest members of the Growth Currency⚡ newsletter community, including Connor, Ashleigh, Lee, Mark, and Ed—to name a few!
Thank you for giving me a little bit of space in you inbox. 🙏
Did someone forward you this newsletter? Subscribe here »​
​
---
Introducing...
​The 1KS Roadmap: Getting your first 1,000 newsletter subscribers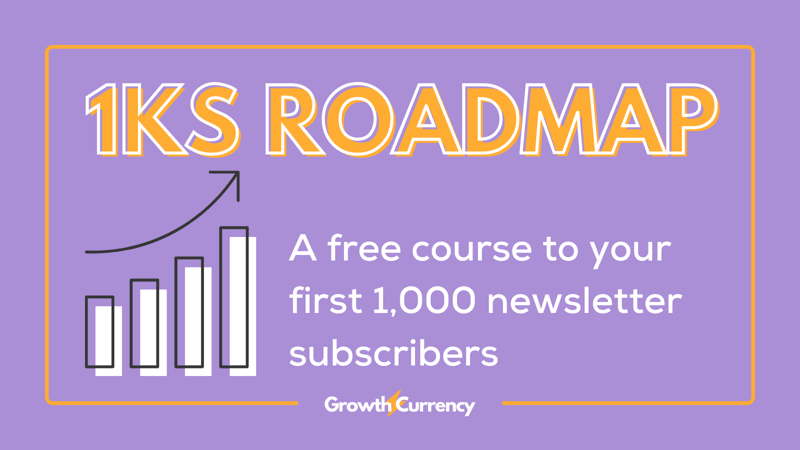 It's can be a long path to your first 1,000 subscribers.
But it doesn't have to be.
It took me 10 months of weekly publishing + promotion to grow my newsletter to 1,000 subscribers. I learned a lot of lessons.
What worked well. What didn't.
And getting your first 1,000 subscribers is the hardest 1,000.
So I created my first ever email course teaching you the strategies I've used to crest 1k.
And not only mine—I reached out to some other newsletter publishers asking them to share their most successful strategies. I included a few of theirs as well.
Interested?
Click below and you'll get the intro email in your inbox shortly :)
This new email course is in collaboration with my good friends at SparkLoop and is supported by the SparkLoop Media Network.​
​
---
​
YOUR GROWTH CURRENCY ⚡ THIS WEEK
"Knowledge is the currency of growth."
​
I'm trying something a little different here. Since I refining this newsletter's focus, I've been playing with the tagline of "Helping you start + grow + improve + monetize your newsletter". In that spirit, here's your Growth Currency⚡this week to help you....
▶️Start + 🪴Grow + 📈Improve + 💰Monetize — Let's get into it!
▶️ START
⚡5 things Justin did to rapidly grow his "rebooted" newsletter—to 21k subscribers in 90 days.​
​What should you focus on when starting out? According to Justin…
A focused audience
Publishing consistency
Providing a clear outcome
Making it consumable
Marketing it effectively
Justin Welsh

@JustinSaaS
April 30th 2022
​
🪴GROW
⚡ How to Use LinkedIn Newsletters: A Guide for Marketers by Michael Stelzner
​I'm guilty of not leveraging LinkedIn's newsletter feature—or LinkedIn at all—to grow my newsletter. But do as I say—not as I do! This article goes over the basics in setting up and promoting your newsletter on LinkedIn. (via Not A Newsletter)
​
📈 IMPROVE
⚡The ultimate guide to compelling email subject lines: data-driven best practices + 21 examples by Kaleigh Moore
​"Data-driven best practices" is making my knees weak *swoon*. This report is focused more on product email marketing, yet still filled with useful insights for newsletter writers. Improve your newsletter's open rates with these "data-driven" tips.
​
💰MONETIZE
⚡ How Josh Spector Earns $48,000 A Year Newsletter Ads (with 18,000 Subscribers) by Josh Spector & Copyblogger
​The Copyblogger podcast has been in my heavy rotation lately. And I was all ears on this podcast episode as Tim Stoddart & Ethan Brooks analyzed Josh's ad strategy and booking process. I've advertised in Josh's newsletter and it was great to see his simple sign-up process get the recognition it deserved. Time to replicate!
​
---
​
I'll admit it. I'm a bit nervous.
I've never created an email course before. Also...
I've never set up an email sequence in ConvertKit. I've never activated any mildly complex automation either.
So the 1KS Roadmap is my first go at it. I'm sure something will break or not go according to plan.
But sometimes the only way to practice is to ship your work.
What are you shipping this week?
How would you rate this edition?​
⚡⚡⚡⚡⚡ Electrifying!​
⚡⚡⚡ A decent jolt.​
⚡ Just static...
Hit reply and let me know why — I answer every one :) Or DM me on Twitter!
And in case you missed it, here are last week's TWO most popular links:
#1: The Most Overlooked Factor For Newsletter Success by Dylan Redekop
#2: 10 Unconventional Lessons I've learned to help you grow your own creative projects by Jeremy Enns [🧵]​
​
---
​
Other Growth Currency⚡ Resources:
→ The Ultimate Creator Database of Awesomeness​
→ How To Start, Grow, and Optimize a Thriving Newsletter Community​
→ Advertise in this newsletter​
Again, thinking of Ukraine as the war wages on. Please consider the links below.
🇺🇦 Support Ukraine:
​Come Back Alive​ || Ukrainian Red Cross || Voices of Children​ || Ukraine-Russia Twitter List (h/t Noah Smith)
Peace and platonic love,
Dylan
​