​[Read the browser version right here]​
Hey Reader,
Welcome to the 115th edition of Growth Currency⚡— the newsletter that helps you start + grow + improve + monetize your newsletter.
Yep—it's meta: a newsletter about newsletters. Check out older editions here.
In this week's edition:
» Substack launched a Twitter clone 🐦
» The best growth strategy for newsletters? Our guide to newsletter recommendations 🫱🏻‍🫲🏻
» 100+ ChatGPT promps for creators to improve workflows 🤖
» Getting a newsletter sponsor & 1k subscribers BEFORE first send 🤯
…and more!
Shall we?
---
[#Sponsored]​
​ConvertKit's Craft + Commerce conference is happening June 8-10 in Boise, ID—and tickets are going fast
This three-day event is designed to help you connect with fellow creators, learn from experts, and discover tools and strategies to grow your business.
Your Craft + Commerce ticket includes...
→ inspiring keynotes
→ workshops
→ meetups
→ live ConvertKit support
→ social events
This is the perfect opportunity to gain valuable insights, network with your peers, and have a blast doing it.
Right now, you can take $50 off your Craft + Commerce ticket.
Want to bring a friend? You'll save even more!​
​Register now »​
​​
---
What You
Need To Know
News from GC & the Newsletter industry
​→ Substack launches Notes — a Twitter competitor​
​→ Join SparkLoop's next Office Hours: ​Getting your emails in the inbox with Alyssa Dulin at ConvertKit​ [Tues, April 25th]​
→ Want direction & advice with your newsletter? Book a 30-min or 60-min newsletter strategy call with me.​
​
---
ARTICLE by
Growth Currency

⚡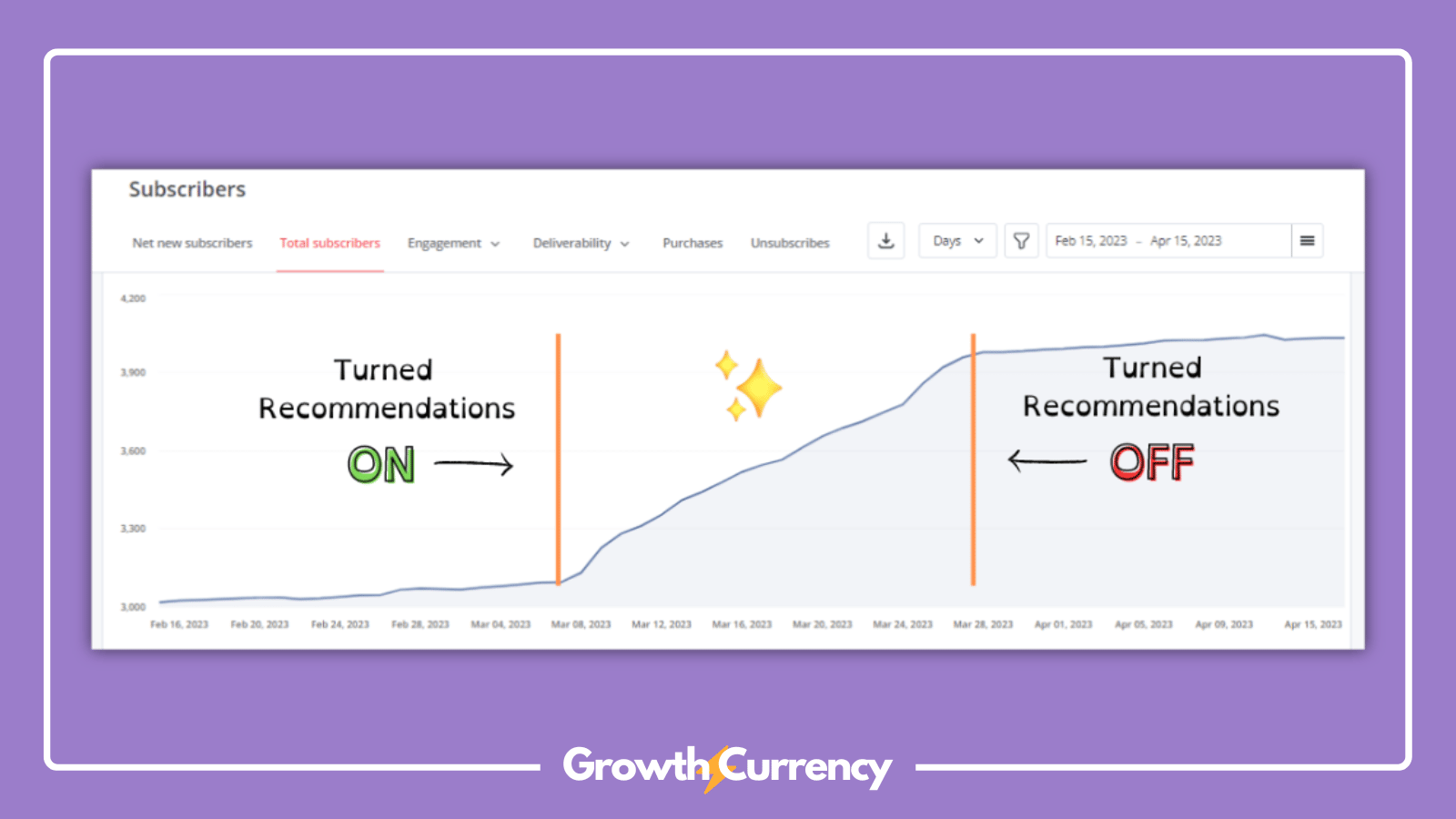 The 2023 Guide to
Newsletter Recommendations
My Growth Currency⚡ newsletter just added ~1000 subscribers in March. I went from 3k subscribers to 4k.
And nearly 100% of those subscribers were all thanks to one growth strategy:
→ Recommendations.
Friends, I have not encountered a stronger growth strategy — free OR paid — than the latest Recommendations feature widget.
It's a game-changer.
I've had dozens of newsletter strategy calls with newsletter publishers over the last 6 months. The #1 challenge they have in common?
Growing a newsletter is f*cking hard.
The best way used to be a valuable lead magnet. It can still be a great strategy. Newsletter swaps — aka "cross-promotions" — can also work. The demand for cross-promotions has spawned platforms like Lettergrowth, Collabmatch, and InboxReads, to name a few.
But the Recommendations strategy is leaving other strategies in its wake.
This article will cover:
What the newsletter Recommendations feature is
The best newsletter Recommendations tools
How to use it for your newsletter (how to get recommended)
Are Recommendations the right growth strategy for you?
Important considerations with this growth strategy
Let's get into it and GROW your newsletter.
---
LINKS by
Growth Currency

⚡

"Knowledge is the currency of growth."

​
START
YOUR NEWSLETTER
⚡ How to Grow Your Indie Newsletter and Engage With Readers by Dan Oshinsky
My Take: This is a helluva guide for those just getting started. Get Dan's insightful tips on building a loyal audience of 5000 readers by creating quality content, promoting it, engaging with readers, and tracking progress.
​
GROW
YOUR NEWSLETTER
⚡ How Daniel Murray Grew Marketing Millennials to 90k Subscribers by Chenell Basilio (of Growth In Reverse)
My Take: 90k Subscribers in 9 months is super impressive. But Daniel is the King 👑 of LinkedIn company pages with over 600k followers. That'll help get you to 90k subs fast, but there's lots to learn here about growth on LinkedIn and translating that to newsletter subscribers.
​
IMPROVE
YOUR NEWSLETTER
⚡ 100+ ChatGPT prompts for creators: Speed up your workflow with AI by Tyler Wade (via Descript)
My Take: AI is here to stay—and if you're like me, you could benefit from increased operational efficiency. I don't want AI to write my newsletter for me. But I definitely need to improve my workflows. High-five for streamlined operations!
​
MONETIZE
YOUR NEWSLETTER
⚡ How Eli Weiss Got a Sponsor & 1,000 Subscribers Before His First Send by Darwin Binesh
My Take: Why not validate your newsletter idea for monetization before you even start? I love this and will 1000% do this if/when I start another newsletter business.
​
​Key takeaways:
→ The story of how Eli got started and learned everything on the fly.
→ How he got his first 1,000 subscribers & paid sponsor before sending his first email.
→ Several pointers on content strategy (topic selection, originality, etc).
→ What he does to secure highly engaged, quality subscribers.
→ The approach he takes to maximize his newsletter revenue.​
​
---
(GC ⚡ #Affiliate Newsletter Of The Week)
Become a better storyteller in 5 minutes a week.
One of my favorite newsletters.
I just learned how to be a better storyteller with Nathan's breakdown of Steve Jobs' 7-step framework.
And how the dudes from South Park replace one word with two to make their stories WAY better. And how to use the Rule of Three to make stories more memorable.
FREE tactical lessons to become a better storyteller? Yes please.
​Join 60k+ subscribers with one click »​
​

---
Thanks for making it to the end—I try and save some personal ramblings for this space.
I write a lot about newsletters. But one of my other passions is running.
I ran in the Vancouver Sun Run held annually in Vancouver, BC.
It's a 10km run with over 30,000 participants. I run it for fun—and to try to beat my previous year's time.
But instead of pushing too hard in training this year, I tried a different approach. For the past 2 months, I only trained below my maximum aerobic heart rate (180 minus your age = max aerobic heart rate).
The result?....
I didn't beat my time from last year. Missed it by 2 whole minutes.
But I was more focused, intentional, and strategic with my training than ever. Monitoring my recovery proved the slower pace was better for my cardio health. And I'm confident the new approach will be better for my health long-term.
This all made me think about newsletters and the pace at which we write, publish, repeat—day after day, week after week.
Could I, and could you, be more focused, intentional, and strategic with our newsletters?
I know the answer, for me at least. How about you?
​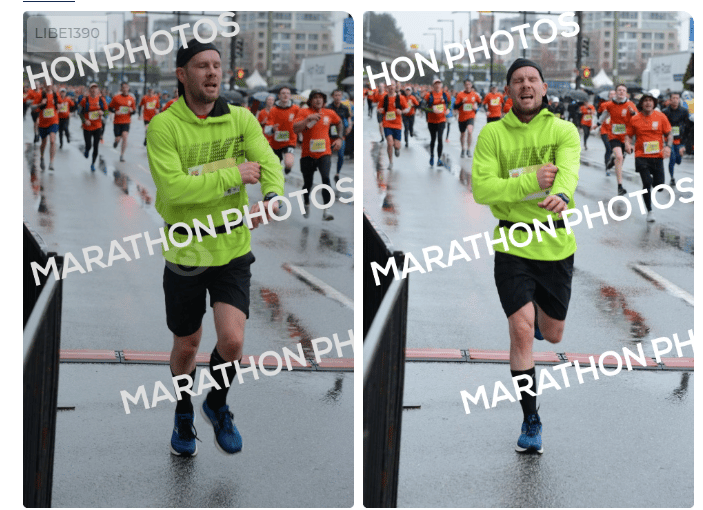 ​
How would you rate this edition?
​⚡⚡⚡⚡⚡ Electrifying!​
​⚡⚡⚡ A decent jolt.​
​⚡ Just static...​
​
And in case you missed it, here are last edition's TWO most popular links:
#1: 26 Growth Lessons from 26 Substack Writers by Chris Brunet (97 clicks) ​
#2: How to write a newsletter when you suck at consistency by Growth Currency ⚡ (94 clicks)
---
Other resources to help you:
→ The 1KS Roadmap: A Free Course To Your First 1,000 Subscribers​
→ The Ultimate Creator Database of Awesomeness​
→ Advertise in this newsletter​
​
Peace and platonic love,
Dylan